Cyberattacks: Could You Be Next?
Many small to medium-sized enterprises (SMEs) that think they've got cybersecurity under control are surprised to find themselves the victim of a costly attack. But the truth is that your basic anti-virus and firewalls just aren't enough anymore, and until you take proactive steps to protect your business from cybercrime, you could risk losing everything to an attack.
Know Your Risk
You can't improve cybersecurity until you understand your vulnerabilities. Since threats are constantly evolving, you need to step up your security game if you want to defend your data and your business. The smartest executives are teaming up with cybersecurity experts for dynamic security services that cover all the bases. The first step to securing your business is to evaluate your current cybersecurity risks with an in-depth security assessment.
Comprehensive Security Solutions
There's never been a more important time to protect your business from cybercrime. Cybercriminals are targetting SMEs in New Zealand, and organisations here are suffering disruption and financial loss because of this. Just having antivirus software and backup is no longer sufficient – SMEs need to be using multiple strategies and tools to protect themselves from cybercriminals. To develop an all-encompassing approach to cybersecurity, begin by getting a comprehensive evaluation from your trusted managed services provider. We will provide you with a detailed report of potential security risks and an action plan to mitigate them. Let's defend your organization from the latest threats.
Download our SMB Cybersecurity Essentials Checklist here.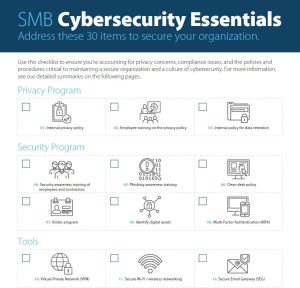 10 Reasons to Invest in Managed Cybersecurity Services
Around-the-Clock Monitoring: Our security experts will monitor your networks 24/7/365 for suspicious activity and safeguard your business day and night.
Automatic Data Backups: Forget about devastating data losses with automatic data backup solutions that you can count on.
Disaster Recovery Solutions: In the event of a crisis, we'll minimize business disruption and make sure your network is up-and-running again in no time.
IT Services Within Reach: Benefit from affordable cybersecurity services for SMEs that fit your needs and your budget.
Compliance IT Solutions: Following government guidelines is easier when your IT infrastructure is secure and up-to-date.
Security Awareness Training: Give your workforce the skills they need to reduce human error and prevent phishing scams and worse.
Cybersecurity Consulting: Get in-depth advice from knowledgeable security experts who will help you address your unique risks.
Proactive Planning: Develop a custom business continuity plan designed to support your business goals both online and off.
Hardware Maintenance: Avoid downtime and related costs with secure hardware maintenance for mobile devices, printers and more.
Unbeatable IT Support: Work with security experts who have top-tier training and will keep up with constantly changing threats so you don't have to.
Book your Free Security Assessment today!
We'll identify weaknesses in your current infrastructure and help you understand your risk. Let's protect your business with a forward-thinking cybersecurity solution that addresses your unique challenges.